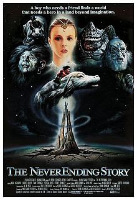 Judul :
The Neverending Story (1984)
Jenis film :
Adventure, Drama, Family, Fantasy
Sutradara :
Wolfgang Petersen
Pemain :
Barret Oliver, Chris Eastman, Darryl Cooksey, Gerald McRaney
Durasi :
113 menit
Tahun Tayang :
1984
Ringkasan :
menceritakan tentang seorang anak yang kerap menjadi korban bully teman-temannya, ia "meminjam" buku berjudul The NeverEnding Story dan mulai membacanya di loteng sekolah di mana ia ditarik ke tanah mitos Fantasia, yang sangat membutuhkan seorang pahlawan untuk menyelamatkannya dari kehancuran.
Kelebihan
Deretan aktor pemerannya saja sudah jaminan kualitas film yg dipuji banyak kritikus film ini
Kekurangan.
mungkin karena jamannya, grafis film ini masih terlihat sedikit lebih kasar dibanding film saat ini
Kesimpulan.
Film yg sangat menarik dan direkomendasikan untuk ditonton oleh keluarga dan semua penggemar genre film ini. Dengan cerita dan petualangan yg sangat menjanjikan, aktor kelas atas dengan akting yg mengagumkan
nilai :
5/5
Last edited by a moderator: