Joined

Mar 7, 2022
Messages

725
Reaction score

363
Points

198
Gender

Male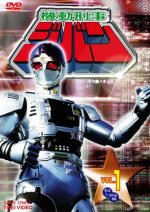 "This is the drama of a girl's and a young man's hearts which love people and protect justice." (これは人を愛し、正義を守る若者と少女の心のドラマである。, Kore wa Hito o Aishi, Seigi o Mamoru Wakamono to Shōjo no Kokoro no Dorama de aru.)
Naoto Tamura, a new detective in Central City, is killed by a Bionoid Monster in the line of duty. Doctor Kenzo Igarashi, a man whose experiments had been responsible for the Bioron
syndicate
's existence, brought the man back to life as a cyborg detective, Jiban. Eventually, Madogarbo and Rhinonoid killed Jiban, who returned to life again as
Perfect Jiban
(basically the same design as the original, but with a blue-colored metal body and three new weapons). In the finale, Biolon destroyed Jiban's base and transformed Madogarbo into a false Jiban. Jiban defeated his duplicate and ultimately Gibanoid, the true form of Biolon's leader Doctor Giba. The victorious Jiban then learned that Mayumi Igarashi, the one civilian that knew his secret, had been his missing younger sister all along.
Atau bahasa indonya di
Kidou Keiji Jiban
(機動刑事ジバン
Kidō Keiji Jiban
) (
Inggris
:
Mobile Detective Jiban
) adalah serial
tokusatsu
yang dibuat oleh
Toei
. Jiban adalah serial
Metal Hero
yang ke-8 dari serangkaian serial Metal Hero. Film seri ini ditayangkan oleh
TV Asahi
dari
29 Januari
1989
hingga
28 Januari
1990
. Di
Indonesia
, serial tokusatsu ini pernah ditayangkan di
Indosiar
.
Total Episode 52
Sub : Inggris