Nostalgic
Donatur
Scanlation team
Verified
Joined

Mar 31, 2017
Messages

149
Reaction score

228
Points

115
Gender

Male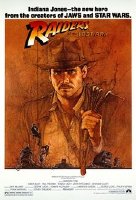 Jenis film : action, komedi
Sutradara : Stephen Spielberg
Aktor : Harrison Ford, Karen Allen, Paul Freeman
Durasi: 1 jam 55 menit
Tahun tayang: 1981
Rating IMDB : 8.5
Nilai rekomendasi : 5/5

Sinopsis :
Indiana Jones and The Raiders of The Lost Ark
berkisah tentang petualangan Indiana Jones (Harrison Ford) yang berupaya menyelamatkan Tabut agar tidak jatuh ke tangan pihak Nazi. Apa yang istimewa dari tabut? Tabut bernama
Ark of The Covenant
ini, jika didapatkan, maka tentara Nazi bisa menjadi tak terkalahkan. Film menjadi menarik karena keberadaan Rene Belloq (Paul Freeman) - musuh bebuyutan Indiana yang juga arkeolog- yang tak kalah cerdas, berani, dan penuh intrik. Film
Indiana Jones and The Raiders of The Lost Ark
dihiasi dengan adegan action sekaligus komedi yang mengundang tawa juga menjadi cukup segar karena keberadaan Marion Ravenwood (Karen Allen) yang tampil lugu, mengimbangi keseriusan Indiana.
Kelebihan :
Film ini penuh aksi bahkan dari awal cerita sampai akhir, yang membuat penonton mengkerut di kursinya, dialog yang minim bahkan terkesan
full action
didukung juga dengan adegan komedi yang tidak dibuat-buat sehingga kita bisa terpana mengikuti kisahnya.
Kekurangan :
Film aslinya masih dijumpai adegan kekerasan seperti ditembak jarak dekat, tergilas baling-baling (meskipun sudah tidak kita jumpai lagi setelah disensor).

Kesimpulan :
Buat pecinta action kayanya wajib menonton film ini, dijamin terkesan, karena film ini mampu memadukan action-komedi yang selaras membuat sangat sayang untuk dilewatkan barang semenit
.
Ketenarannya mampu mengimbangi film Star Wars kala itu.
Yang belum kenal dengan si tampan Indiana Jones, silakan nonton ini film tidak bakalan merugikan waktu anda..