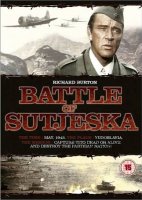 Battle of Sutjeska (Fifth Offense/La Quinta Offensiva)
Release Date: 3 July 1973
Language: Serbo-Croatian, German, English
Country of Origin: Yugoslavia
Director: Stipe Delic
Writers: Sergey Bondarchuk
(imdb)
pemeran Utama : Richard Burton
The Battle of Sutjeska atau lebih dikenal dengan ''fifth offensive'' adalah Film tentang penyerangan paling hebat yang pernah dialami Partisan Yugoslavia dengan Nazi Jerman yang dibantu Italia, Kroasia & Bulgaria pada Perang Dunia II dari 15 Mei s/d 16 Juni 1943.
Merupakan film termahal dalam sejarah perfilman yugoslavia, dibuat untuk memperingati 30 tahun perang tersebut.
film ini meraih 5 penghargaan : Moscow International Film Festival (1) & Pula Film Festival of yugoslavian Films (4).
Dalam film ini Richard Burton berperan sebagai Joseph Broz Tito pemimpin besar Partisan.
pandangan sekilas: menilik dari terbitan komik awal partizan di eppo 1977, saya curiga, Julio Radilovich Jules mendapat ide komik tersebut dari film ini karena banyak terdapat kemiripan profil & karakter dalam film tersebut di komik komando terutama pada komik pertamanya Izdajnik (pengkhianat).