Moderator
Staff member
Scanlation team
Kontributor
Verified
Joined

Nov 26, 2013
Messages

1,039
Reaction score

4,628
Points

560
Gender

Female
Sebenernya kalau dipikir belanda enggak kurang talenta tapi kok berasa susah banget juara piala dunia ya mas,hehehehe,tapi kalau masalah komik sih setahu saya baru Manchaster United yang nerbitin perjalanannya,dulu sampai beli cdnya digramed,hehehe,sebenernya nunggunklub-klub lain ikut nerbitin komik seperti MU. Selain itu komiknya Reol Dijkstra kok susah di carinya...:bigtears:
saya adanya Roy of the Rovers, tentang Roy Race, pemain sepakbola yang bermain untuk Melchester Rovers

...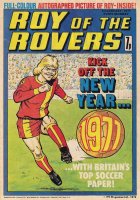 Roy of The Rovers
adalah komik strip asal inggris bertema sepakbola yang menceritakan tentang kehidupan tokoh fiksi
Roy Race
yang bermain di sebuah klub sepakbola bernama
Melchester Rovers
. Muncul pertama kali dalam majalah komik
Tiger
pada tahun 1954 sebelum kemudian menerbitkan sendiri dalam bentuk album komik mingguan dengan nama yang yang sama untuk kemudian berubah menjadi album komik bulanan yang diterbitkan oleh IPC dan Fleetway dari tahun 1976 sampai tahun 1995.
Album List :
Roy of the Rovers No. 2 - 2 Oct 1976
Roy of the Rovers 24 Dec 1977
Last edited by a moderator: