Joined

Aug 24, 2013
Messages

4,956
Reaction score

56,987
Points

1,158
Gender

Male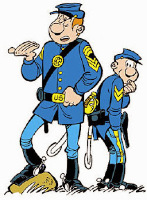 Kisah Seragam Biru
(FRA: Les Tuniques Bleues) adalah serangkaian komik Belgia yg pertama kali diterbitkan di majalah Spirou dan kemudian dikumpulkan dalam album oleh Dupuis. Dibuat awalnya oleh seniman
Louis Salverius
dan penulis
Raoul Cauvin
, seri ini dilanjutkan oleh artis
Willy Lambillotte
setelah kematian mendadak Salverius.
Bercerita ttg
dua orang anggota pasukan kavaleri
Amerika Serikat yang melalui serangkaian pertempuran dan petualangan mereka. Album pertama dari seri ini diterbitkan pada tahun 1970. Nama seri Les Tuniques Bleues, arti harfiahnya "
bluecoats
", mengacu pada
Tentara Utara
selama Perang Saudara Amerika. Satu edisi bahasa Inggris dari komik itu diterbitkan pada tahun 2004 sebagai "The Blue Tunics: The Blues in Black and White" oleh Reney Editions. Sejak itu Penerbit Cinebook telah mulai mencetak komik ini dalam bahasa Inggris sebagai "The Bluecoats" melepas seri awal "Penjara Robertson" pada tahun 2008. Komik ini adalah salah satu seri terlaris dalam komik berbahasa Prancis.
PERHATIAN! HARAP BACA PERATURAN FORUM
f. Member
DILARANG
menshare kembali semua unduhan terutama hasil
SCAN ASLI
serta hasil
SCANLATION
dari admin/kontributor dari semua topik yang ada pada forum
KECUALI buku/ebook tersebut BUKAN
scan asli dari admin/kontributor (memang mengambil dari site luar) dan karena hasil SCANLATION adalah murni
hanya untuk koleksi pribadi
tanpa
tujuan untuk melecehkan pencipta / penerbit komik
dikarenakan tidak tersedianya komik tersebut dalam bahasa indonesia. (apabila di kemudian hari pencipta/penerbit komik tersebut keberatan, maka zona djadoel bersedia meremove hasil scanlation tersebut dari forum ini, dan Zonadjadoel
Tidak dapat dituntut dan tidak akan mempunyai tanggung jawab hukum
apabila komik scanlation tersebut beredar diluar dari forum ini.) g. Pelanggaran terhadap
poin (f)
di atas, yang bersangkutan akan dikenakan sanksi banned permanen. Baca
Terms of Use/Service & Privacy Policy
List Download :
Penjara Robertsonville
Angkatan Laut Biru
Penyapu Ranjau
Pengelana Udara
Sang Pemula
Rumberley
Bronco Benny
Pasukan Biru Bermandi Lumpur
Si David
Asal-Usul Si Sersan Biru
Sirkus Kosak
Asmara ditengah Luka
Lima Napi
Bull Run
Last edited: